Article written by Sarah Ravit from gambit news
Though it's obscured by thick fog, the sun's just come up over Grace at the Greenlight, a social service organization in Central City. Dozens of homeless and low-income New Orleanians are lined up on the sidewalk for breakfast. Some take their Styrofoam boxes and walk to the nearby park or head back to their encampments.
It's a familiar sight for Sarah Parks, Greenlight's executive director, who's chatty and on a first-name basis with many of those who have been lining up for meals, which include coffee, fruit and grits or oatmeal depending on the day.
One man, 43, who identified himself as Javier but declined to give his last name, said he walks over to the site daily from his low-income rental nearby to get meals as well as volunteer to give back to the program. "I'm grateful for these people," he says. "So I show my gratitude by helping them out, too."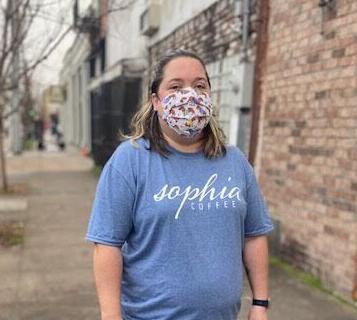 At the beginning of the pandemic, Parks says, "a lot of the agencies had to limit services or reduce services — which caused our organization to want to do more. Normally we only feed breakfast to the homeless, but we decided to do breakfast and lunch for a while."
At the organization's busiest, she says, they were handing out as many as 700 meals a day. They relocated to a massive, empty parking lot to accommodate the need for physical distancing among hundreds of people needing food.
The numbers of those needing meals from her organization have dropped recently, she notes.  The city's ongoing meal assistance program, which is funded with FEMA money, and other volunteer organizations have taken off some of the pressure. Still, says Parks, city agencies and nonprofits alike are facing unprecedented stress. "Everyone is cash-strapped," she says.